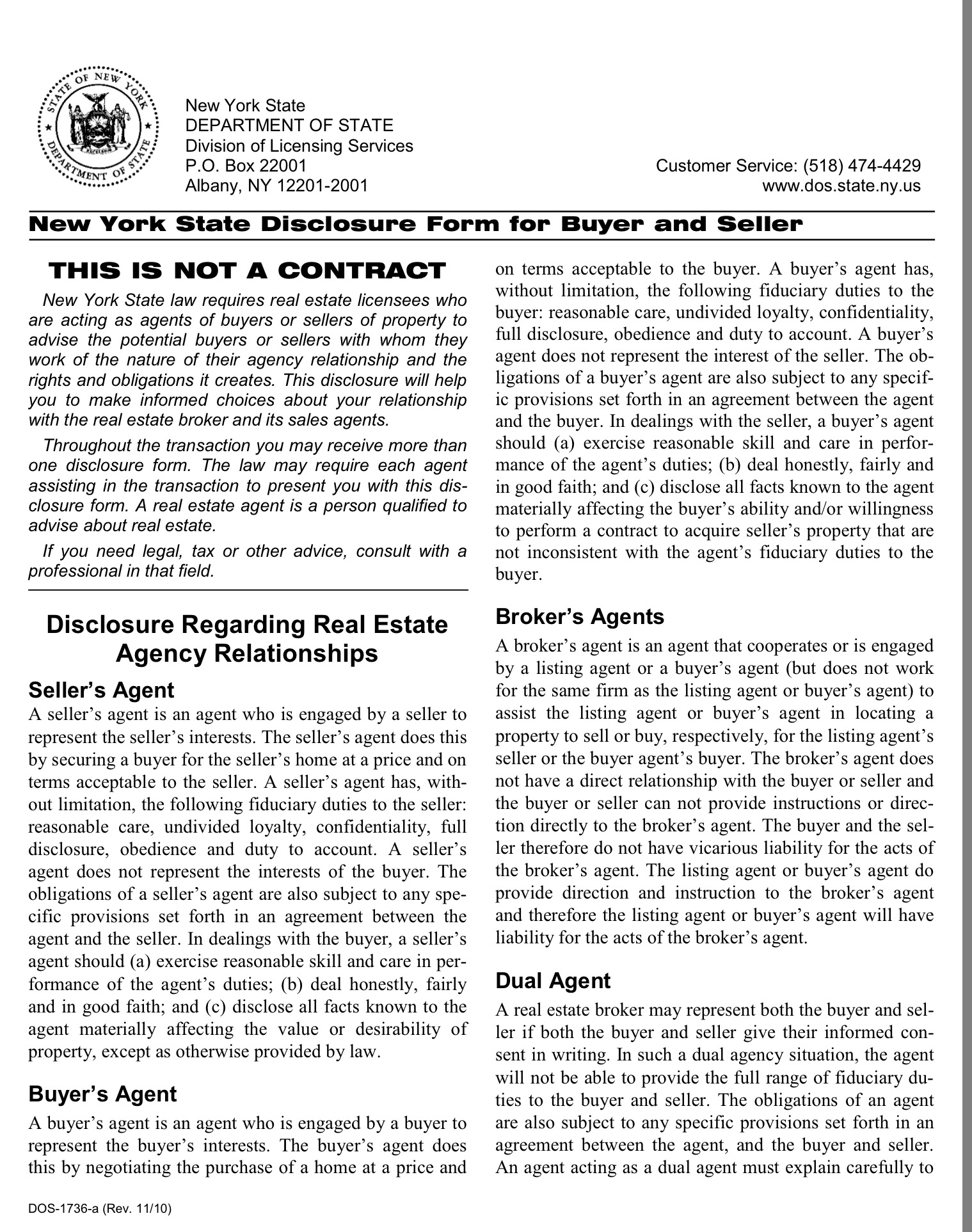 In New York State- If you ask a real estate agent to help you look at real estate or to discuss listing your home for sale you will be asked to sign a New York State Agency Disclosure.
The first time you meet the agent the first thing that should take place is a conversation about various types of agency. Every agent in New York is required by law to explain the different types of agency at the "first substantive contact" with prospective buyers or sellers. The Agency Disclosure Form will help you to understand the relationship of the agents involved in a real estate transaction and the rights and obligations the relationship creates.
The fiduciary duties that the agent owes to their client (the person he is working for) are: reasonable care, undivided loyalty, confidentiality, full disclosure, obedience and accountability.
The agent will explain that there are different types of agency.

The Sellers Agent- Is hired by the seller, and works in the best interest of the seller.
The Buyers Agent- Is working for and in the best interest of the buyer.
A Brokers Agent- Is works for a different agency but works in cooperation with the broker. This agent will have no direct relationship with the buyer or seller- but has a relationship with the broker and helps the broker in the transaction.
Dual Agents- work for both the buyer and seller. In the case where there is a dual agency both buyer and seller must agree to the dual agency in writing.
Dual Agents With Designated Agents- The Broker will assign designated agents within the firm to represent the buyer and seller. This dual agency will need to be agreed to in writing by both the buyer and seller.
While working with an agent, your agency relationship may change. For example, you may have requested to see a home an agent has listed, at that time there would be a dual agency situation. If you ask to see another home listed by another agency, the agent would then be a buyer's agent. Then if a third home is shown listed by another agent with the same brokerage, there becomes a designated dual agency situation.

When your agent presents the agency disclosure to you, understand that this is required by the State of New York. If you do not understand, ask questions. The agent is qualified to answer questions you may have.The Agency Disclosure is not a contract, it is not legally binding you to work with the agent.